Product Description
New greenhouse cover sheet light conversion material plastic polycarbonate hollow sheet

| | |
| --- | --- |
| Product Name: | Greenhouse Hollow Polycarbonate Sheet |
| Material: | 100% bayer material or sabic material or customized |
| Color: | Clear, Blue, Lake Blue,Green, Bronze, Opal or Customized |
| Place of origin: | Hebei,China |
| Max Width: | 2100mm |
| Thickness: | 4mm-20mm,or as your request |
| Length: | 5800mm,12000mm,11800mm,or can be customized. |
| Certification: | ISO9001:2008 |
| Warranty: | Usually 10 year's which depends on the models you ordered. |
| Surface: | Anti-fog, UV protection |
| UV thickness: | 50 micron,Franco |
| Retardant standard: | Grade B1(GB Standard) |
| Autoignition Temperature: | 630℃ |
| Technology: | Co-extrusion |
| Sample: | Free samples could be sent to you for testing. |
Products Show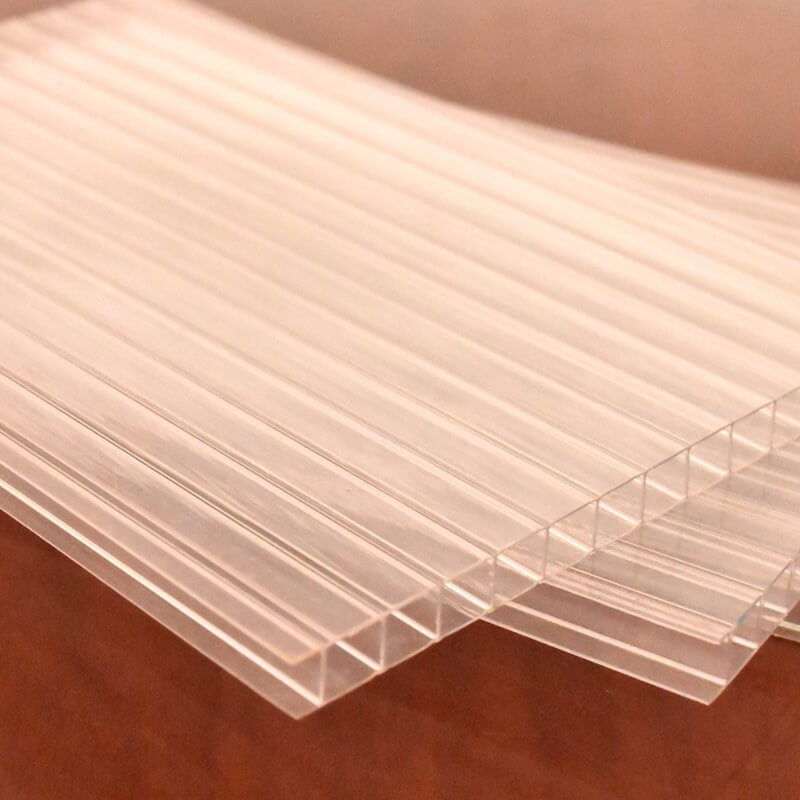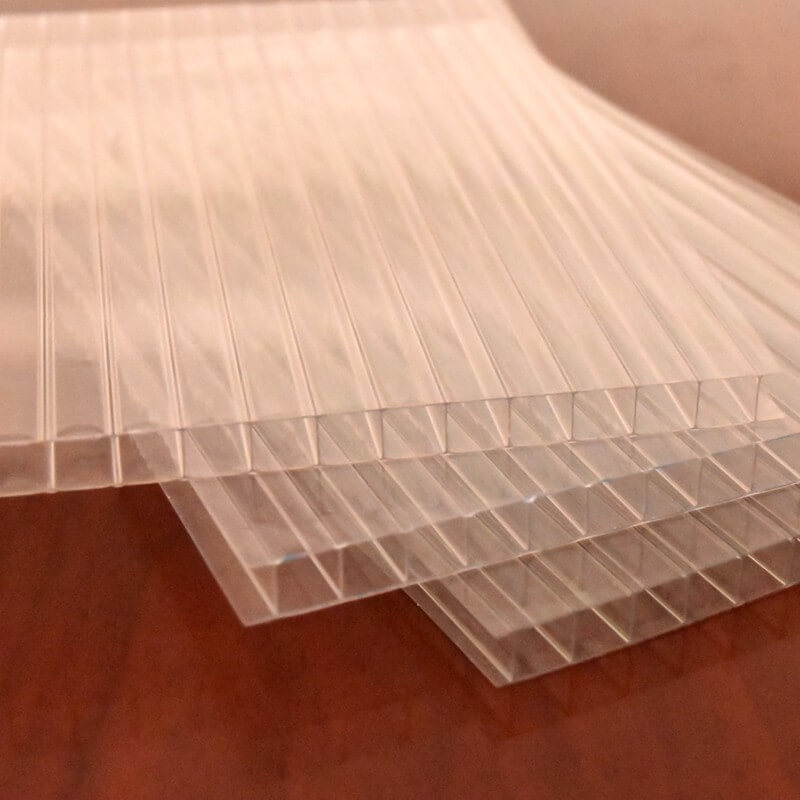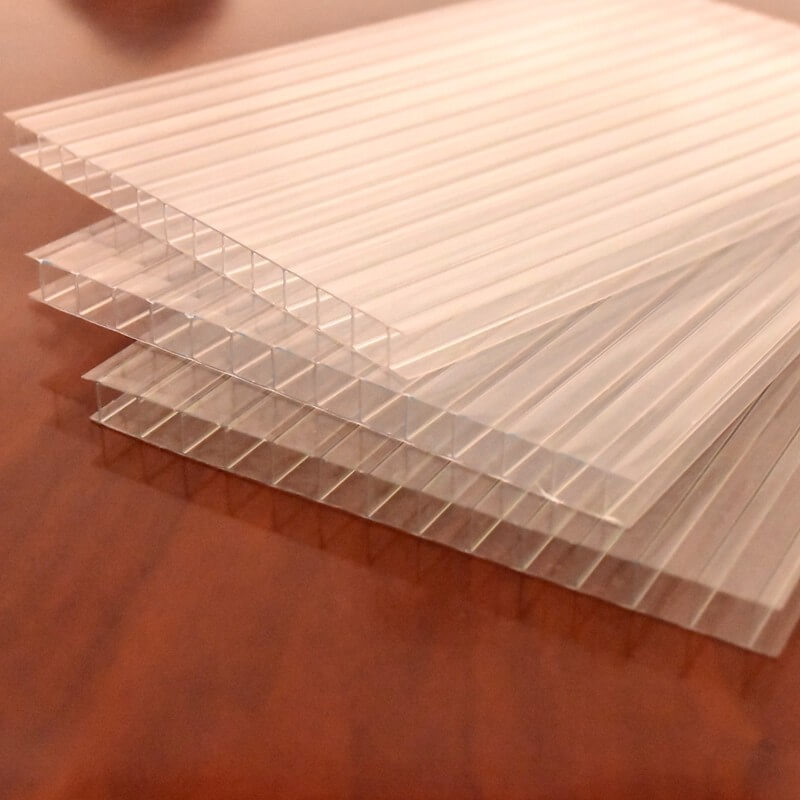 Technical data

Characterics

Unit

Data

Impact strength

J/m

2.1

Light transmission

%

50-85

Specify Gravity

g/m

1.2

Coefficient thermal expansion

mm/m℃

0.065

Service temperature

℃

-40℃~+120℃

Heat conductively

W/m2℃

3.0-5.0

Flexural strength

N/mm2℃

100

Modulus of elasticity

Mpa

2400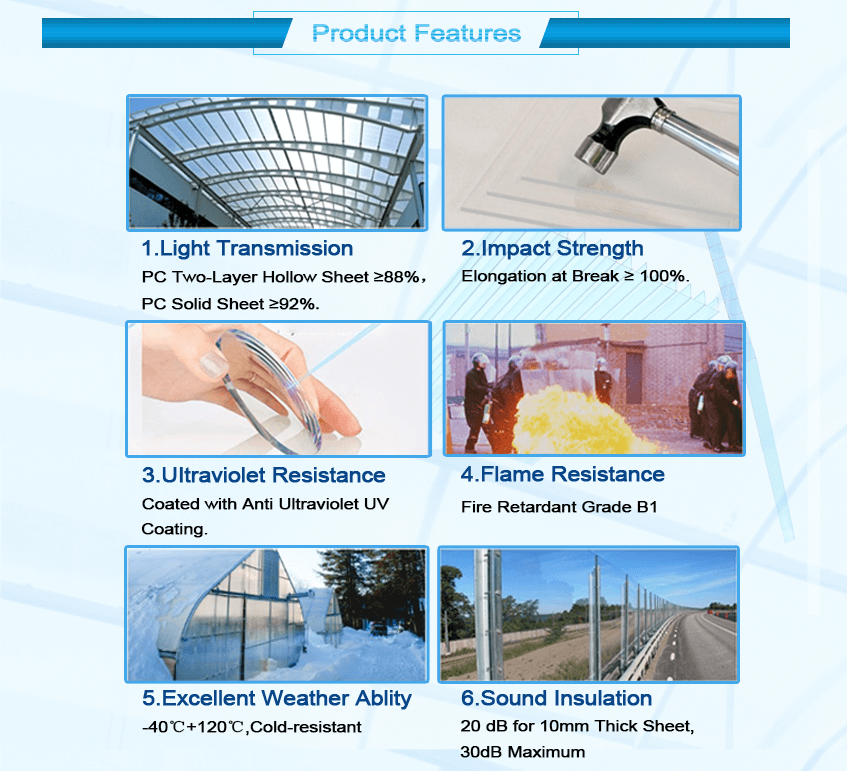 Product Processing
Product Packing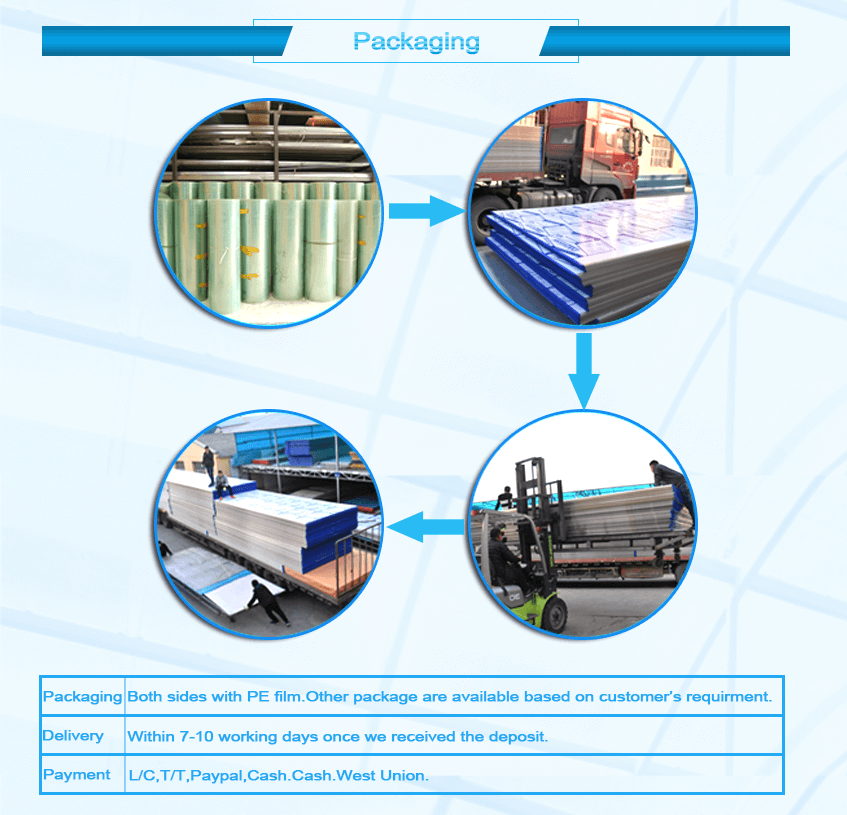 Our Company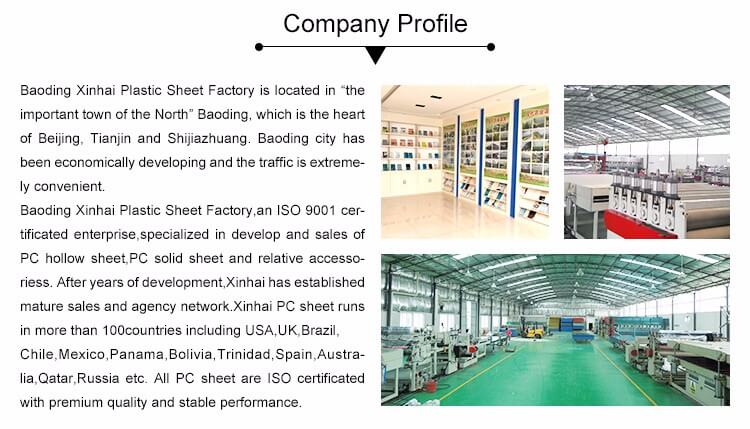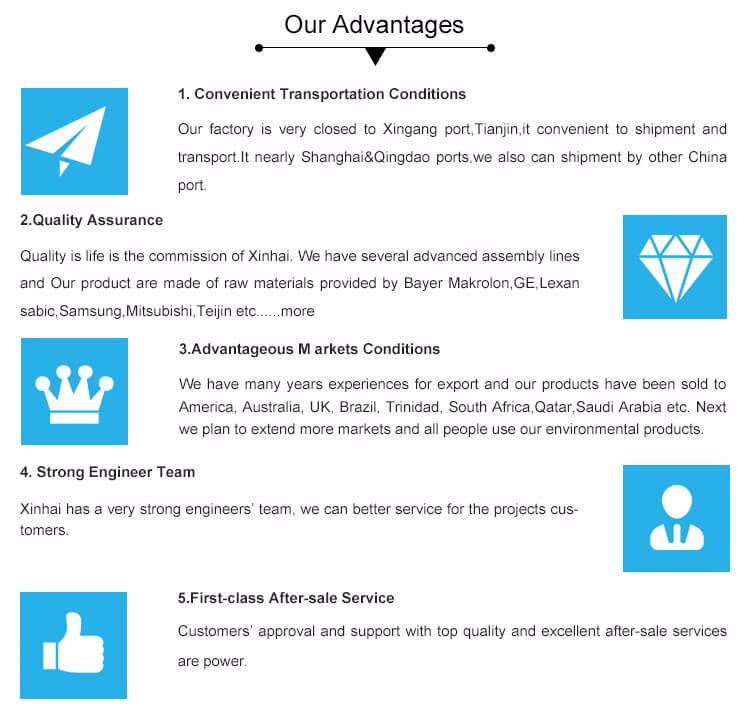 Our Certifications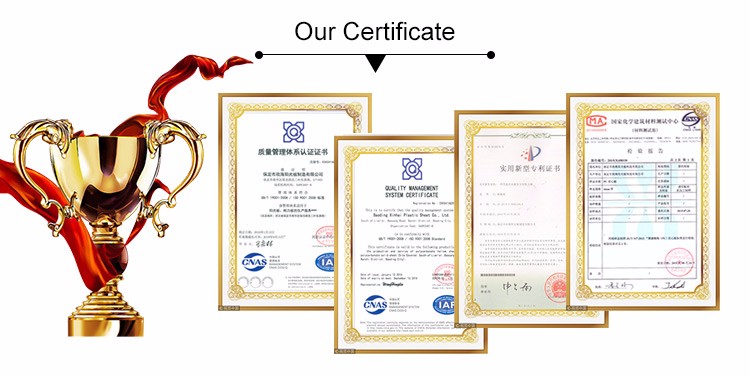 Products Application
*1.Industrial building industry workshop,warehouse,roof lighting.
* 2.Modern agricultural greenhouse,modern farms of agricultural facilities,green ecological restaurant,greenhouses.
* 3.Municipal construction daylighting corridor,carport,canopy,sound insulation screen waiting ares,kiosks,road,railway station,overpasses.
* 4.The daylighting of the sports venues,outdoor swimming pool,stadiums
* 5.Business application architecture decoration,stage design,exhibition layout,road signs,product display,advertising light boxes.
* 6.The adornment that occupy the home indoor and outdoor decoration,private residential lighting,indoor ceiling,indoor partition,shower enclosure,interior door and windows,sun room,block rain canopy,chimney.
* 7.Security facilities prison,bank,security counter,jewelry store,the museum security,anti-theft window police riot shields,industrial machinery,surgical shell.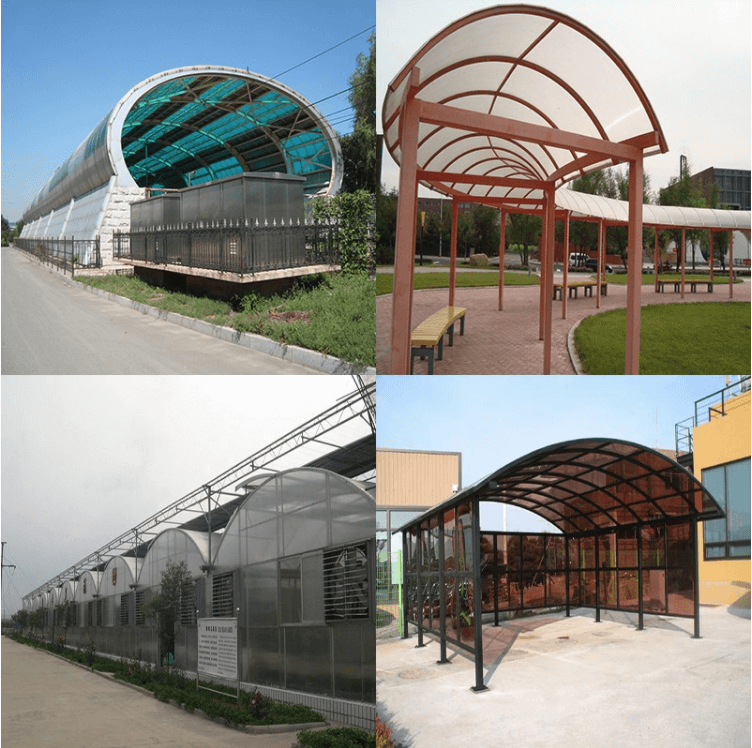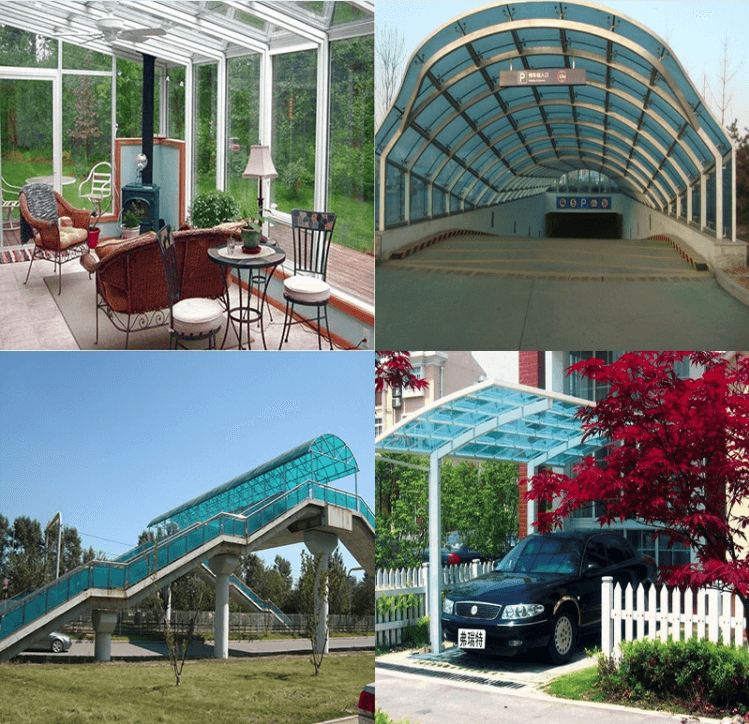 FAQ
Q: What kind of a company you are ?
A: We are a manufacturer located Hebei, China .We have gained good reputation among our customers for our profession al,warm and thoughtful service, Because we know that a long terms business based on the quality control,delivery time etc.

Q: What's the quality assurance you provided and how do you control quality ?
A: 1)Established a procedure to check products at all stages of the manufacturing process - raw materials, in process materials, validated or tested materials, finished goods, etc. Besides, we have also developed a procedure which identifies the inspection and test status of all items at all stages of the manufacturing process.

2)100% inspection in assembly lines. All controls, inspections, equipment, fixtures, total production resources and skills are inspected to ensure they consistently achieve the required quality levels.
Q: Can I install polycarbonate sheets myself ?
A: No problem. Polycarbonate sheets are particularly user-friendly and very light, so that fewer cross bars are needed. This makes the supporting structure more straight forward and cheaper.
Q: Won't a polycarbonate roof make things very hot ?
A: Polycarbonate roofing sheets come with an energy reflective coating, which helps solve this problem. Moreover, polycarbonate sheets have excellent insulating properties so that heating costs are considerably reduced during intermediate seasons.

Q: What will happen in the event of a fire ?
A:Fire safety is one of polycarbonate's strong points. Polycarbonate sheeting is flame retardant and do not emit toxic substances, which is why they are so often incorporated in public buildings, where the most stringent safety regulations apply.
Q: What is the impact strength of polycarbonate ?
A:Polycarbonate is almost unbreakable. It is many times more impact resistant than any other transparent material used for glazing or roofing purposes. Many types of tests are used to measure impact strength, so it is difficult to compare data. Solid polycarbonate sheets comply with most tests issued on the impact strength of glazing materials. To give an idea: a 3mm solid polycarbonate sheet withstands the force of a steel ball of about 4 kg dropped from a height of 9.5 m,3 times in a row. It does not break or shatter! When you take a look at some of the more industrial applications, you will see that polycarbonate is used for machine glazing, police riot shields, ice-hockey rinks...all applications that require extreme impact resistance.